Medal of Honor Recipients Portrayed On Film

Classic Heroism
ALVIN CULLUM YORK (1887-1964)
Rank, duty position and unit at time of action:
Corporal, Assistant Squad Leader, Company G 328th Infantry, 82nd Infantry Division, American Expeditionary Force
War:
World War I
Place and date of action:
Chatel-Chehery, France, 8 October 1918
Portrayed by:
Gary Cooper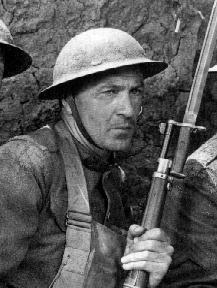 In the film:
Sergeant York (1941)
---
Text of Citation:
YORK, ALVIN C.
Rank and organization: Corporal, U.S. Army, Company G, 328th Infantry, 82d Division. Place and date: Near Chatel-Chehery, France, 8 October 1918. Entered service at: Pall Mall, Tenn. Born: 13 December 1887, Fentress County, Tenn. G.O. No.: 59, W.D., 1919. Citation: After his platoon had suffered heavy casualties and 3 other noncommissioned officers had become casualties, Cpl. York assumed command. Fearlessly leading 7 men, he charged with great daring a machinegun nest which was pouring deadly and incessant fire upon his platoon. In this heroic feat the machinegun nest was taken, together with 4 officers and 128 men and several guns.
---
Remarks:
Ironically, while having earned the reputation of being the best marksman and hunter in Fentress County, Tennessee before the war, York applied for Conscientious Objector status due to his religion when drafted; as his church denomination did not specifically prohibit service in war, the application was turned down. Although he performed well in basic training, tutoring his fellow draftees in marksmanship, he repeatedly sought exemption from combat. An open and frank discussion with his company and battalion commanders, debating religion and patriotic duty, ended with York being given two weeks' leave to decide. The battalion commander, Major Gonzalo E. Buxton Jr., agreed to discharge him if he still held to his convictions after the leave, but York returned and went overseas with the 82nd "All American" Division. He attributed his decision to Matthew 22:21 "...Then sayeth he unto them, Render therefore unto Caesar the things which are Caesar's; and unto God the things which are God's."
York rose to the rank of Corporal and, during the final offensive in the Meuse-Argonne region, found himself facing the German machine gun nest with 35 machine guns at Chatel-Chehery. Armed with an Enfield rifle and a Colt .45 automatic pistol, he pushed out alone ahead of his depleted squad and began sniping at the Germans as they stuck their heads out of the nest to aim. He then killed six Germans who were sent to flush him out. (He used his Colt .45 M1911 automatic for this task, but as the slide of the M1911 does not recoil properly to reload when firing blank ammunition, a problem the filmmakers couldn't get around in 1941, he is shown using a captured German Luger in the movie.) York then positioned himself at the end of the German trench and began shooting them as they stood in line in the trench, prompting their surrender. (Not mentioned in the citation is that a total of 25 Germans were killed before the remaining 132 gave up the fight.) The highest-decorated American of World War I, York returned home with, in addition to the Medal of Honor, a promotion to Sergeant, the French Croix de Guerre and a gift of 400 acres of good farmland from the grateful people of Tennessee.
In 1941, on the eve of the United States' entry into the Second World War, York consented to having his diary adapted to film, personally selecting Gary Cooper to portray him as a condition for the filming. The film would be universally acclaimed as one of the best film biographies of all time, earning an Oscar for Best Actor for Cooper and an Oscar nomination for Best Picture. It was a straightforward adaptation of the diary with very little Hollywood embellishment; the only embellishment which York acknowledged was that the film showed his born-again Christianity as due to being struck by lightning on his way to a confrontation with a rival, whereas it was actually simply his meeting his future wife and falling in love. (This would become the first of two films in which Gary Cooper would have the title role playing a Medal of Honor recipient, the second being The Court Martial of Billy Mitchell.)
Upon America's entry into World War II, York declared himself available to return to uniform, but served out the war, ironically enough, as president of the local draft board.